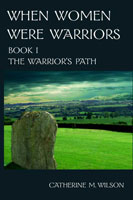 I haven't had a chance to review it, but Catherine Wilson read
my rant about review copies of books
not be distributed in e-book (i.e., Kindle-compatible) format and e-mailed me a copy of her book,
When Women Were Warriors
. Not only did she send me the e-book, but she actually encouraged me to e-mail it around to other people. Further, the book she sent is listed for only
$0.99 in the Kindle Store
, which is a pretty cool marketing technique considering it's the first of a trilogy.
Note that Catherine is the author of the book; she didn't have to hire anyone to do any marketing for her, she just sent me an e-mail. You can also read the first book in its entirety on her website, just click
here
.
It's just not that hard folks.